Trucks & 4×4 Sign Writing
Sign writing for your truck is a brilliant way to expand exposure for your business. In todays modern era, trucks & 4×4's are becoming increasingly popular for company vehicles. Anything from Land Rover Defenders, Nissan Navaras, Ford Rangers and Toyota Hi-Lux to rigid trucks, luton vans & catering trailers are all able to be sign written or wrapped.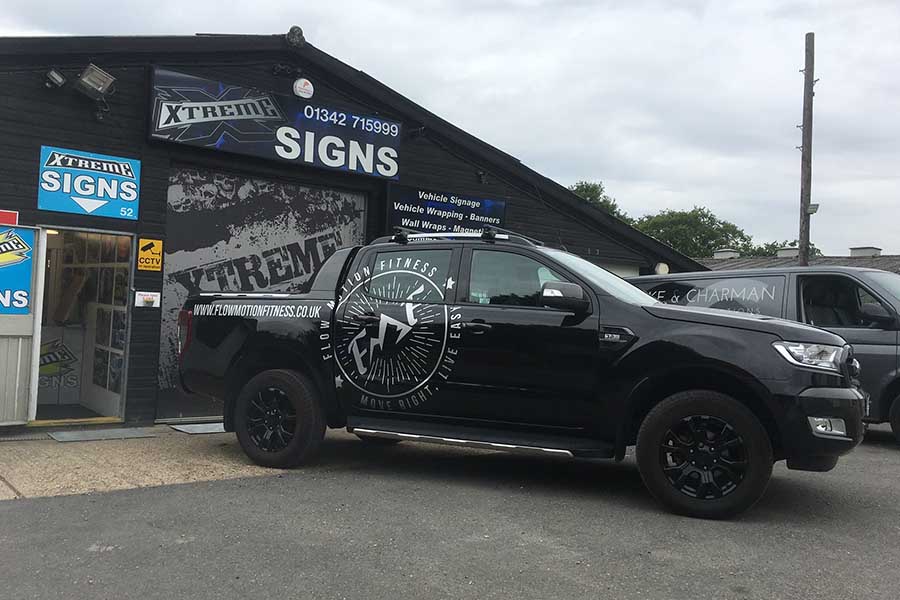 Sign writing your vehicle is a cost-effective way of promoting your business.
With our large format printers – we can cater for a huge array of vehicles at any size or shape. Just get in touch to find out how we can help you!
Trucks & 4×4 sign writing gallery
Testimonials
From the design stage to the fitted end product Extreme signs have been very easy to deal with, professional, honest and reasonably priced.
I would recommend in an instant.
Brilliant service from these guys, from design to the finished product, over the moon with result. Thanks to Shaun for the design, and the add on you did I didn't know about, I will definitely be returning for my second van next year, if you want a great design, service at a competitive price then look no further 👍👍
Nissan eNV200 Signage
Thanks for all your help getting Betty looking her very best. Can't recommend this team highly enough, patience with my many design tweaks, super finish and they even charged her up so I could get back up to London! Brilliant!
Van Signwriting
Xtreme Signs are the most professional design / sign writing team in the south east!
They can, and will accommodate anything.
Shaun and his team spent many valuable hours helping / guiding / advising us, and they produced a stunning result.
Thank you guys from Howell Transport & Haulage Ltd
We look forward to the next one.
Van Signwriting
One of the main reasons I decided to go ahead with Xtreme signs was because they didn't constantly badger me for the work. Shaun was brilliant from the first email right through to job completion. He was straight up and to the point. His designs are on point and didn't make a fuss when I asked for a couple of changes.
Van Signwriting
Absolutely love my vans sign writing! The team are wonderful and help you from start to finish, nothing is too much trouble for them – thank you!
Load More