Stadium Signage
Signage is a great way to speak to your audience, fans, participants and sportsmen and women. Advertising, marketing and sponsorship are all part of this. You may need your signs to be informative, eye-catching, temporary or permanent, durable and be installed in or around the sports venue or ground.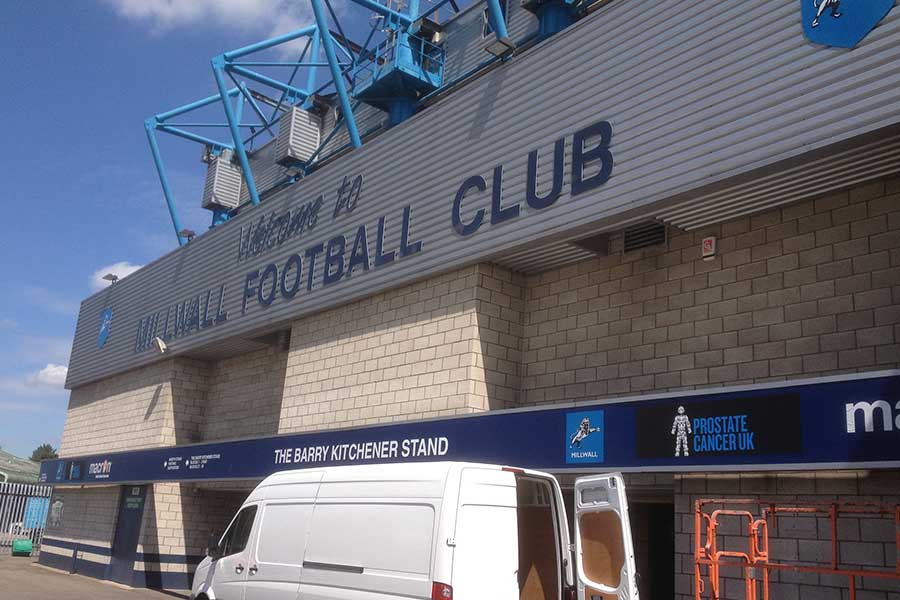 Xtreme Signs can provide signage, displays, design and printing for all types of sports venue, pitch, ground or club
Whether it be sports venue signage for:
Advertising Hoardings and 'A Frame' Banners
Gates or doors leading in and out of the sporting venue
Temporary Signage for Events or Match-Days
Directional Signage Inside and Outdoor
Informative Signage, Canvases or Inspirational Quotes
Arena, Track, Court, Pool or Leisure Centre Signage
Corporate Signage for VIP or Hospitality
Health & Safety Signage
Floor Graphics and Wall Wraps
Venue Dressing
Don't forget your club vehicle or supporter's minibus, Xtreme Signs can sign write your transport
We have fitted large scale banners to the outside of stadiums, covered gym floors and wrapped club shop windows for the new kit and sales. Our many years of experience mean we have the know-how to complete projects on time and to a high standard. Contact us to discuss your requirements.
Testimonials
I found xtreme signs online and was over an hour away but I was very particular about what I wanted so needed the right company to do it.
From start to finish Shaun and his team were very professional and made everything very clear and easy.
Even on the day when I wanted an extra QR code on the van Shaun created it and sorted everything with no extra charge.
The final outcome was 10x better then I expected.
I'm extremely happy I went with this company and would recommend to anyone. Thanks again.
Shaun
Can't thank these guys enough,allways look after me with my signs, uniform and van wraps.
Xtreme Signs have provided us with a very professional service, from sign writing our apprentices van, to providing our workwear for our entire work team. The staff are extremely helpful, by catering to our needs when designing workwear and van sign writing.
Would definitely recommend and already have to many people.
Jamie
Finesse Heating Ltd.
Friendly and efficient service provided by Shaun and would highly recommend Xtreme if you need any graphics and signs for your business, race car or home.
5 star service and 5 star quality Finnish. 👍
Amazing service from day one
We had a tricky design and I was a very fussy customer
But nothing was too big of a job for them.
Thank you I love my new sign writing for my new company !
❤️ 💚
Load More