Stadium Signage
Signage is a great way to speak to your audience, fans, participants and sportsmen and women. Advertising, marketing and sponsorship are all part of this. You may need your signs to be informative, eye-catching, temporary or permanent, durable and be installed in or around the sports venue or ground.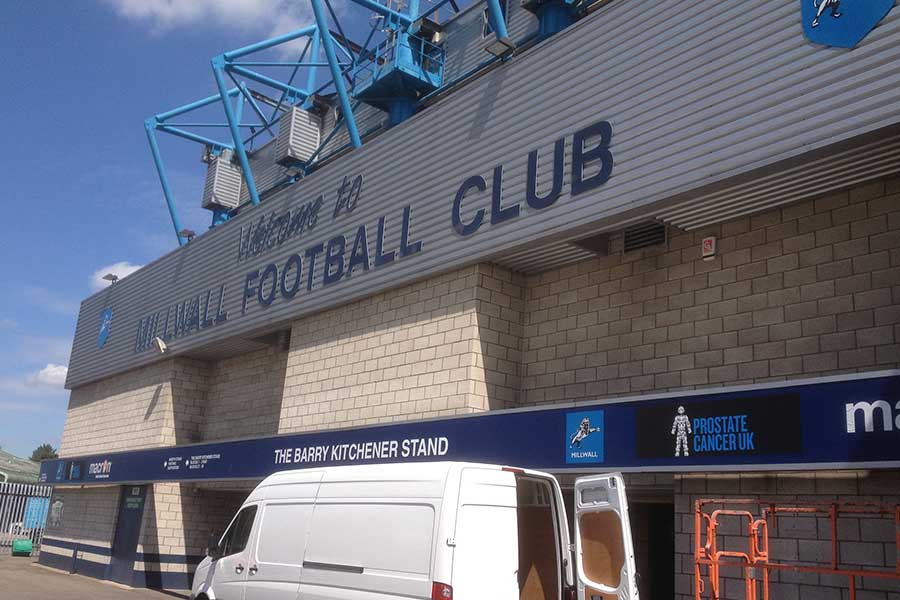 Xtreme Signs can provide signage, displays, design and printing for all types of sports venue, pitch, ground or club
Whether it be sports venue signage for:
Advertising Hoardings and 'A Frame' Banners
Gates or doors leading in and out of the sporting venue
Temporary Signage for Events or Match-Days
Directional Signage Inside and Outdoor
Informative Signage, Canvases or Inspirational Quotes
Arena, Track, Court, Pool or Leisure Centre Signage
Corporate Signage for VIP or Hospitality
Health & Safety Signage
Floor Graphics and Wall Wraps
Venue Dressing
Don't forget your club vehicle or supporter's minibus, Xtreme Signs can sign write your transport
We have fitted large scale banners to the outside of stadiums, covered gym floors and wrapped club shop windows for the new kit and sales. Our many years of experience mean we have the know-how to complete projects on time and to a high standard. Contact us to discuss your requirements.
Testimonials
Building Signage
Thank you so much! We absolutely love them! Couldn't recommend you guys enough!
Van Signwriting and Cafe Window Signage
Thank you for all your hard work, and thank you to the team too. Much appreciated and I will be back in the near future. Thank you.
Van Signwriting, Banners and Signage
Many thanks for all the work you have done on our signage – it's fabulous!
Engraved Signs
May I just say how perfectly polite and professional you both were.
Temporary Event Signage including pallet signs, banners, flags, stickers and pavement signs
Thank you so much for supporting the Copthorne Prep Help4Heroes Triathlon. The day was a huge success. This could not have happened without the support we received from the local community including yourselves, much appreciated.
Large External Sign installed onto brickwork
Many thanks indeed for your efforts, – the sign is perfect.
Load More