Chapter 8 Chevrons
Chapter 8 is so called due to the Public Highways Chapter 8 which requires vehicles which work on roads with a 50mph+ limit to be equipped with high visibility markings. These take the shape of chevrons and are made up of reflective & fluorescent colours.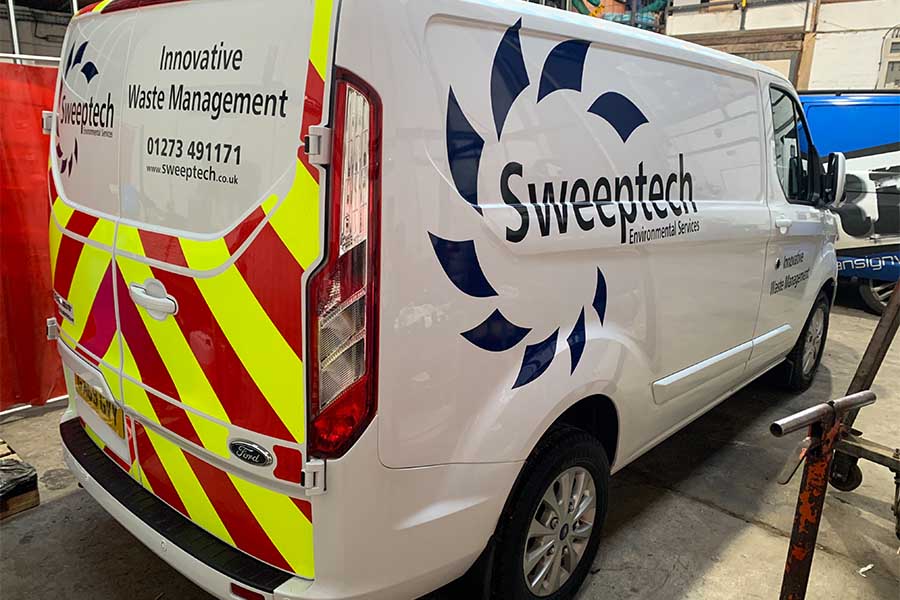 Xtreme Signs can fit your vans and vehicles with chapter 8 reflective vinyl and other side markings for the safety of your staff as well as public safety too.
We use the industry standard fluorescent and reflective vinyl colours and these can be fitted on various parts of the rear of the vehicle and the sides, whether it is a pick-up, escort vehicle, wheel covers, van or car. They can also be bespoke sizes for magnetic panels, and signage too.
Chapter 8 Chevrons gallery
Testimonials
From the design stage to the fitted end product Extreme signs have been very easy to deal with, professional, honest and reasonably priced.
I would recommend in an instant.
Brilliant service from these guys, from design to the finished product, over the moon with result. Thanks to Shaun for the design, and the add on you did I didn't know about, I will definitely be returning for my second van next year, if you want a great design, service at a competitive price then look no further 👍👍
Nissan eNV200 Signage
Thanks for all your help getting Betty looking her very best. Can't recommend this team highly enough, patience with my many design tweaks, super finish and they even charged her up so I could get back up to London! Brilliant!
Van Signwriting
Xtreme Signs are the most professional design / sign writing team in the south east!
They can, and will accommodate anything.
Shaun and his team spent many valuable hours helping / guiding / advising us, and they produced a stunning result.
Thank you guys from Howell Transport & Haulage Ltd
We look forward to the next one.
Van Signwriting
One of the main reasons I decided to go ahead with Xtreme signs was because they didn't constantly badger me for the work. Shaun was brilliant from the first email right through to job completion. He was straight up and to the point. His designs are on point and didn't make a fuss when I asked for a couple of changes.
Van Signwriting
Absolutely love my vans sign writing! The team are wonderful and help you from start to finish, nothing is too much trouble for them – thank you!
Load More